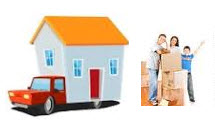 Years ago, me and my wife decided to move from Chicago, where we both grew up, to California.  We were married for about 6 years and our two boys were 2 and 5 years old respectively.  We wanted to do it right and we were concerned about upsetting the apple cart with our two boys.  We wanted to make sure that their emotional needs were met during such an important change in our lives.
So I began reading literature on moving and the effects that a move like this would have on families and children.  During my research I learned that it was important to bring familiar items that the kids were used to having around them; things like toys and furniture that they grew up with.  That made a lot of sense to us so we considered that in our plans.  For several weeks, I packed all our items carefully and I made sure not to toss out anything that I thought the boys would miss.
Well our move happened.  We hired a national moving company, I recall it being something like "Northwestern Van Lines."  We packed up our boys and headed across the country.  When we arrived in LA, we needed a few months to decide what town we wanted to settle in so we rented a small apartment on a short term lease.  There was no room in that apartment so we decided to pack a good amount of our things in a storage facility.  Eventually we found a more permanent place but since we had moved from a home in Chicago to an apartment in LA, it wasn't until about 4 years later that we bought a home and cancelled that storage unit.  Now the kids were 5 and 7 years old.
As I went through the storage unit, I realized that we had a ton of baby toys and baby furniture in there that really wasn't appropriate for their new ages.  We decided to donate a bunch of it to a thrift store.  I also found a lot of books that I no longer needed.  And one of them was a booklet that I had read before we moved from Chicago.  The title was "Planning A Move For Your Family?  How to do it Right!"  The author? … "NorthWestern Van Lines." That moving company received a good amount of extra revenue from me because of the advice in that booklet.
This was content marketing before it had a name!  Well-written content is an effective sales tool.  Nothing has changed, except that now, we have many more and much easier ways to deliver it (and to automate the process).
Note: By the way, my boys turned out OK. They made it through our move and have since become productive members of society. 🙂