Marketing is one of the last (and most important) frontiers in the world of automation. I think that marketing automation is anything that helps marketers and salespeople or small businesspeople to automate their sales and marketing processes. However, marketing is a highly creative endeavor. It requires thinking and planning. And it touches people… creative marketing people, salespeople, and most importantly, customers.
So automation in marketing is best when it is done in such a way that it doesn't stifle that creativity, doesn't create more of a burden on salespeople, and doesn't offend your customers. Customers still don't react very well to robotic marketing.
So that's my definition and that's what I think is important in marketing automation. I'm interested in yours.
Please, send us your definition of "Marketing Automation". Tell us what you think is important when putting it to use.
We aim to identify and discuss the best solutions and to help you to make the best decisions from amongst a long list of marketing automation vendors for your company right here!
You'll also find over 18 free crm trials in our free demos section.
Our goal is to collaborate with you and to share ideas on the best marketing automation software.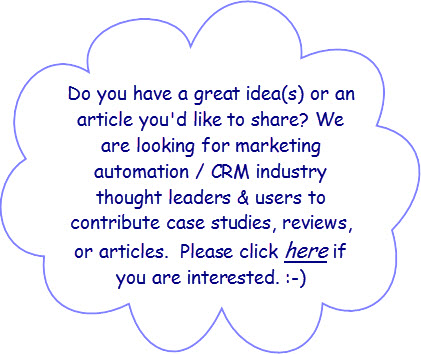 The Primary Objective of MarketingAutomation.com
There are a lot of choices in the market today. I've been interested in marketing automation since 2001 and have tried several products. But most often I've ended up going back to using a spread sheet or Outlook.
Although choice is generally a good thing, there are downfalls. The biggest is "Paralysis of Analysis". I've suffered from it and I'm sure you have too.
So I'm going to write some articles and reviews here. And I invite you to share your experiences here as well. Send us your ideas, your reviews, and your articles. Soon enough, we'll be able to identify and recommend the best marketing automation solutions on the market for both small businesses and large.
We want to identify and recognize companies and programs that integrate the best of marketing automation functions into their programs. And more importantly, we want to identify companies and products that make it easy for small and growing businesses to get to the next level. We invite any of you who have a particular insight on a product or service to comment or to share your own views/reviews.
Our goal is to help businesses like yours become bigger, faster, and to do so at a reasonable cost. And we want to help you to avoid the mistakes that most companies make as they migrate to marketing automation solutions.
If you're involved in the business of marketing automation, we invite you to tell us about your products and solutions. We can't possibly cover aspects of every program ourselves.
We invite interesting vendors to send us your guest articles. If we like them we'll consider giving you access to post your articles regularly.
There are several areas where marketing automation is being utilized and improved including:
Email Marketing
Keyword Research
PPC Campaign Management
SEO for Natural / Organic Search
Sales Follow-up
And much more.
We especially like programs that integrate any / all of these functions and several vendors are actually creating attractive products like this. Visit often and feel free to contact us with your thoughts and ideas.
Recent Posts and Articles
[catlist name=marketing-automation numberposts=10]