I want to congratulate and give props to Eloqua, a marketing automation leader that caters to enterprise (generally b2b) customers. Bloomberg reported today that they raised $92 million dollars in an IPO and got listed on the Nasdaq stock market.
I don't list Eloqua on my Marketing Automation Small Business Friendly list because they really aren't interested in small businesses. However, I respect the company highly and I'm always excited to see an important player in the marketing automation software space grow and do well. It's these larger players that are investing in the industry and who create many of the best practices and software breakthroughs that often eventually filter down and become enabled for smaller, growing businesses that I like to cater to.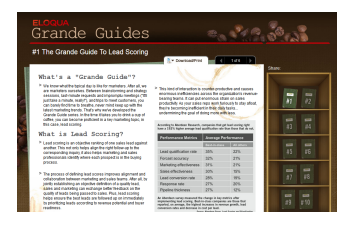 In the process of researching this story, I also came across a valuable set of learning tools sponsored by Eloqua. Any time a company offers free information and outreach available to the public, I appreciate that and Eloqua has created a content section on their blog that I really like and that you can learn a lot from. They call this section their "Grande Guides". They have an old book theme and are available both as a download or for free just by reading their website here….
The way they approach this is a nice touch in a world where it seems you can't get much information without giving up your email address.  I also love the olde world theme of the guides. It helps to make the topics more interesting.  There's a sort of infographic feel to the guides as well. We can learn from ideas like this as we create our own marketing tools and content.
From what I've read so far, the information is sound and would be helpful to a novice trying to cut through the clutter and jargon of Marketing Automation Software. They cover eleven important ideas ranging from B2B Content Marketing all the way to How to Think About Wikipedia for marketing.
I learned a little more about Eloqua today and I have to say I'm beginning to like them a lot.  Their CEO posted about the public offering in his blog and I appreciate his humility and his generous description of their accomplishments.  He credits his employees and, most importantly, his customers for their part in the company's success.  It's a stark contrast from some of the other IPOs we read about.  You can read his piece here.
I wish Eloqua the best. Great job and congratulations on your IPO. I'd also like to give credit to Jill Rowley (@jill_rowley) for alerting me to this story via Twitter.
Here are some highlights of the IPO story:
Eloqua Inc. (ELOQ), the maker of software used by companies including American Express Co., raised $92 million in a U.S. initial public offering, pricing the shares at the top of the proposed range…

Gartner Inc. predicts the business will increase to $22.1 billion in 2015 from $12.3 billion last year…

Eloqua's products, which help companies tailor and measure the effectiveness of marketing campaigns, range in price from $2,000 a month for 4-10 users to $6,400 a month for 250 users…

Revenue at Eloqua jumped 40 percent last year to $71.3 million… The company has more than 1,100 customers, including Adobe Systems Inc. (ADBE), American Express and Dell Inc…

Read the full story here… | Source: Bloomberg | Date posted: 8/2/2012