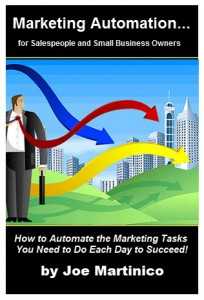 How to Automate The Marketing Tasks You Need to Do Each Day to Succeed!
Get a Free Chapter of My Upcoming Book - Marketing Automation For Salespeople & Small Business Owners
When you sign up for any of our newsletters, you'll receive a free sample chapter of my upcoming book on Marketing Automation for Salespeople & Small Business Owners.
Time hungry salespeople and small business owners are clamoring for ways to save time, lower costs, and make more money. Marketing automation tools are now affordable for smaller entities but the available literature on the topic mostly targets enterprise type readers or is written by vendors with an agenda to sell their goods.
This book will:
help you to understand how to use marketing automation (and CRM) software.
help you identify & select best in breed software for your business and situation in an unbiased way.
teach you the best marketing automation practices so you will succeed.
This is an amazing, needed, and highly current message for millions of salespeople and small business owners. Most salespeople and small business owners have no idea of how technology has changed their world. They need this information.
Joe understands your situation.  Over a period of 30 years, he has successfully sold cookware door to door for the West Bend Company (BtoC sales) and negotiated multi-million dollar national accounts contracts for AT&T wireless (BtoB sales). His past ten years however, have been completely focused on the Internet and technology. He has built and sold a few online businesses in that time and has some great stories to tell from each of these experiences. He understands how you think and why you need to understand marketing automation.
Joe is  an accomplished salesperson, copywriter, speaker, and trainer. He has trained thousands of salespeople and small business owners in his career. He developed and teaches "Succeeding On the Web" for the Inland Empire Small Business Development Center (IESBDC) and the SBA.