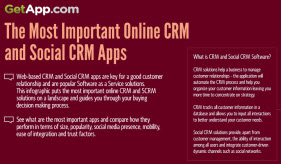 Editor's Notes: The link below contains an especially nice and useful infographic because there are a lot of us who want to use CRM while we are in the field. There's no better way to get a field salesperson in the habit of using marketing automation than to train them to use it before they get home.
Contrary to some modern marketing automation thinkers, I am a still a believer in the importance of field sales representation. I think it is one of the things that sets companies apart from others and often the catalyst to conversion and retention of customers.
I also found a few new CRM vendors here for our Marketing Automation Vendor's list. The infographic provides a handy source for those of us who want to know which CRM providers offer easy access and applications for mobile phones.
I love infographics about marketing automation and am very interested in seeing them and developing more of our own. Linking to them is often irresistible. Although accurate, I think the reference to them as "link bait" can often underestimate their true usefulness.
Please pass links to any that you discover or have created to us. We certainly will consider posting them here and we want to study them more closely.
Also, don't forget that we are interested in guest posts from marketing automation experts. Please write to me here. In the mean time I hope you'll enjoy the infographic below.
Trying to make a decision about which web-based CRM application or social CRM application to use for your business?

Take a look at this infographic below. It locates some of the most important solutions in this space on a map and uses publicly available information to explain how they vary in terms of company size, popularity, social media presence, ease of integration…

Read the story… | Source: GetApp.com | Date posted: 2/26/2012.