Company also introduces new Prophet features, including an enhanced user interface.
REDMOND, Wash. – April 9, 2012 – Avidian Technologies today announced the addition of Prophet Ultimate OnDemand Edition to the company's line of industry-leading Microsoft Outlook-based customer relationship management (CRM) software. The company also launched key new features and enhancements as part of the new edition that will soon be featured across all versions of Prophet.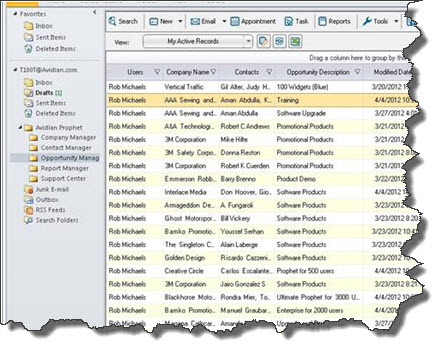 As with the existing Prophet Ultimate OnPremise Edition, the new cloud-based version allows businesses to tailor Prophet's opportunity and project tracking capabilities to meet the needs of departments other than the sales team. However, as a Software-as-a-Service (SaaS) offering, companies can leverage Prophet Ultimate OnDemand to now holistically manage customer relationships across all departments without having to purchase or maintain server software.
Click to Tweet: Avidian extends its customizable, Outlook-based CRM for cross-organizational team use to the cloud: http://bit.ly/IemYI0
"Prophet Ultimate OnDemand allows companies to effectively manage the entire customer relationship – from sales to fulfillment to service and support – all from within Outlook," said James Wong, co-founder and chief executive officer of Avidian. "It also lets Avidian host and manage all of the shared data on our 100 percent secure, 100 percent accessible servers so our customers don't have to hassle with additional hardware or software configuration."
Prophet Ultimate OnDemand also boasts the following new features, some of which will soon be available in other versions of Prophet:
• All new user interface – Prophet's traditional list view is now complemented by the option to view contacts, companies, opportunities and projects in a more visually intuitive, dynamic table view with drag-and-drop functionality. In addition, powerful, new real-time search and filtering capabilities have been added, along with one-click exporting, printing and group emailing.
• Prophet Instant – With a click of the mouse, the all new Prophet Instant feature allows users to follow all activity associated with a specific contact or company. Users can be instantly and automatically notified when any activity occurs for a customer they are following, regardless of which department carries out the activity. Managers can also use Prophet Instant to follow individual employees and be notified of their activity.
• Sharepoint support – For companies using Microsoft SharePoint to support their Outlook environments, Prophet Ultimate OnDemand supports SharePoint contact lists. Companies can easily and automatically integrate their hosted Prophet data with their SharePoint data and dashboards.
Additional Quotes
"With the redesign of Prophet's in-Outlook user interface, our primary goal was to make the easiest CRM software even more user friendly," said David Archer, vice president of sales at Avidian. "Not only has the new dynamic table view surpassed older versions of Prophet, it has leapfrogged other competing CRM solutions in the process. There is no other CRM solution on the market that offers the same level of ease of use and functionality in a single product."
Availability
Prophet Ultimate OnDemand is currently available globally. For pricing and technical requirements, please visit Avidian online or call 1-800-399-8980.
About Prophet
Prophet CRM, developed by Avidian on the .NET platform, is the leading contact management and CRM software built inside Microsoft Outlook. Prophet leverages Outlook's existing data and functionality and transforms it into a full-featured CRM system. Prophet takes Outlook beyond tasks, calendaring and email with centralized and secure contact management, opportunity and project management, flexible reporting and easy sharing and controlling of customer information.
Prophet requires far less training, results in virtually no integration and maintenance hassles and is highly cost effective. Prophet is available in three versions to suit the diverse needs of businesses of every size:
• Premium (sales-centric edition for individual users)
• Enterprise (sales-centric edition for teams)
• Ultimate (fully customizable edition for cross-organizational teams)
Each of the three versions is available in both cloud-based (OnDemand) and on-premise (OnPremise) editions.
About Avidian Technologies
Avidian Technologies is a software company specializing in creating both cloud-based and on-premise software solutions for users of Microsoft Outlook, Exchange and SharePoint. The company is headquartered in Redmond, Washington. For more information, please visit www.avidian.com. Follow Avidian on Twitter at twitter.com/ProphetCRM.