Oncontact CRM 7
According to their website, CRM 7 gives your company the competitive edge it needs with a flexible and effective Customer Relationship Management (CRM) solution from Oncontact Software. Oncontact Software provides the link you need to easily access all your business information with our award winning CRM software.
Oncontact Software is a recipient of numerous industry awards recognizing its exceptional CRM software to automate all critical business information, increase productivity and reduce costs to develop effective sales, marketing and customer service strategies.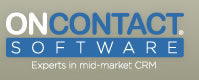 CRM 7 is the latest solution created by Oncontact Software whose primary focus for over a decade has been building great CRM software for the mid-market. Oncontact Software has the reputation for embracing the vision of every client and is determined to help you maintain a competitive edge, and get you to your next level faster.
Bring it in-house or host it.
The most comprehensive mid-market CRM software solution is available as both an on-premise or hosted solution. Oncontact Software gives you the ease of moving your CRM between different environments. Try it on-premise. Then bring it hosted. Or start hosted. Then bring it on-premise. This flexibility will ensure you get the most out of Oncontact CRM 7.
CRM 7 is a leading-edge, full-featured solution.
CRM 7 is an innovative, 100% web-based CRM application that incorporates an incredible look and feel unlike any other CRM product. The full-featured CRM solution is designed to help sales, marketing and customer service departments exceed their expectations in a productivity-driven environment. CRM 7 stores vital customer information on one central tab-generated screen which allows you to work inside the existing tab or in a new tab making it simple to use.
Sales
Our CRM software lets you easily access the entire history of all interactions with customers and prospects on an individual or company-wide level. Learn more.
Marketing
Our CRM software can help you take your marketing to the next level. Make sense of the information in your database and maximize your marketing dollars by creating, executing, managing and tracking campaigns that increase leads and generate sales. Learn more.
Customer Service
Outstanding customer service becomes a reality with a full-scale help desk management system that lets you track inquiries, incidents and problems. Learn more.
Customization
Customize and automate any area of CRM 7 so the application matches your unique business practices. Learn more.
CRM 7 is a leading-edge, full-featured solution.
The full-featured CRM solution is designed to help sales, marketing and customer service departments exceed their expectations in productivity-driven environment.
Users will work with a new user interface and a convenient tab generated system that will allow them to work inside existing tab or in a new tab. Users can view, edit and search for customer data in record time and find it fast and easy to
customize.
CRM 7 is easy to use.
With an incredible, totally redesigned look and feel, unlike an other CRM product, CRM 7 makes it easy to use and get the information you need – fast. One central screen controls crucial information that allows you to view, edit and search for data – making it a snap to find the information you need.
CRM 7 is quick to implement.
CRM 7 comes to you ready to go, right out of the box – loaded with the product features your company needs to react to tomorrow's business developments and changes.
CRM 7 is customizable.
Your organization is unique. CRM 7 includes the powerful tool, Customizer, to help you custom-tailor screens and workflow. With Customizer, you can accurately reflect your company's way of doing things so you can make this solution truly your own. Use Customizer to design and position screens exactly the way you want them to appear and function. You can also modify or build workflow and business rules into the application, allowing for fast, simple enhancements as your needs evolve.
Best of all, the toolkit brings customizations and user preferences to the user or the 'not-so-technical' administrator so changes can be made quickly and easily.
CRM is affordable.
CRM 7 has it all. It has more features. It's more user-friendly. It adapts to you with incredible customization. And you get it all for less. CRM 7 was designed based on a "one solution, one price" philosophy. One straightforward, per-user price for the on-premise or hosted solution. There are no server fees or third-party products required for integration or synchronization of your data. There are never any hidden charges to uncover, and no fine print to interpret.
Employ the CRM solution that:
* Is 100% web-based, easy-to-use and customizable
* Provides the same look and feel via the on-premise or hosted application
* Easily integrated with third-party applications
* Works with industry-standard solutions, such as Microsoft SQL Server
* Is a budget-friendly application
Oncontact CRM uses the latest Microsoft Silverlight platform and complements the Microsoft Windows 7 operating system.