Sales Lead Management Association (SLMA) Announces Winners of 50 Most Influential People in Sales Lead Management 2011 – MAI Partners With 12
Grand Rapids, Michigan (PRWEB) December 13, 2011
The Marketing Automation Institute (MAI), the premiere certification body and collaborative community for B2B and B2C marketing automation professionals, is excited to announce that twelve of their members, vendor council or technology sponsors were recognized by the Sales Lead Management Association as Winners of Most Influential People in Sales Management.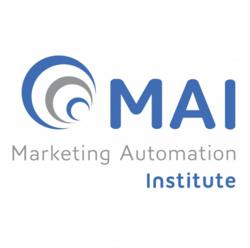 The goal of the Marketing Automation Institute is to become the definitive resource and community for marketing automation professionals," says Carlos Hidalgo, executive director of the MAI. "We want the best of the best to join our organization to help facilitate industry-wide certification, training, and networking in a vendor-neutral setting. Seeing the results of SLMA's list of 2011 winners proves that we are bringing industry thought-leaders to this organization and that makes us very proud of our members and what they have accomplished."
Winners of the Most Influential People in Sales Lead Management that are associated with MAI include 28 Marketing, Act-On Software, Aprimo, DemandGen Report, Eloqua, Left Brain Marketing, Silverpop, The Annuitas Group and The Bridge Group.
"I am honored to be recognized by SLMA in 2011 and join industry leaders in this prestigious group," says Bill Nussey, president and CEO of Silverpop. "We are proud of the work we do and the strong association we have with MAI, working to help educate the market about marketing automation and build a vibrant community."
According to James W. Obermayer, executive director of the Sales Lead Management Association, 7,113 votes were cast (22% more than last year) for 79 nominees by 4,656 people (three votes per person). Nominees came from varied industries including CRM Software, Marketing Automation Software and publishing.
See what MAI can offer today! Charter memberships are available with special pricing until December 31 and Certification Courses are online now – register today and become of the industry's elite marketers. Get involved, enhance your career and help your organization achieve a higher ROI on their technology and program investments today.
About the Marketing Automation Institute
The Marketing Automation Institute (MAI) is the premiere certification body and collaborative community for B2B and B2C marketing automation professionals. Through our courses, certification, resources and events, the MAI not only helps marketing and sales professionals advance their careers but also their organizations realize a higher return on technology and program investments. With the support of industry thought leaders and vendors, the MAI is committed to the success of marketing automation professionals across the globe. For more information visit http://www.marketingautomationinstitute.com