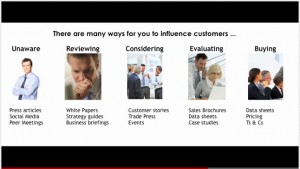 U.K based Hot to Trot Marketing recently posted a great video outlining the phases that business buyers go through before making a purchase. By understanding these phases a marketing team can build a buyer profile or persona and create content appropriate for the various stages.
The stages include:
Being Unaware
Reviewing an Idea
Considering an Idea
Evaluating Products / Solutions
Buying
And the appropriate types of content for each stage are outlined as follows:
Being Unaware – Press Articles, Social Media, Peer Meetings
Reviewing an Idea – White Papers, Strategy Guides, & Business Briefings
Considering an Idea – Customer Stories, Trade Press, Events
Evaluating Products / Solutions – Sales Brochures, Data Sheets, & Case Studies
Buying – Data Sheets, Pricing, Terms & Conditions
Here is their video…
The key is to consider these stages along with your buyer persona beforehand. You can then begin to implement true, time-saving, marketing automation strategies.