I was recently pointed to a Slideshare presentation created by Jon Miller of Marketo.  I liked it a lot and am happy to share the link here with you.  I have to be honest that the acronyms used in the marketing automation industry have taken me a while to get used to.  But I'm happy to report that I'm understanding them better now.  Things like MQL, SAL, and SQL used to bother me.  Now they're coming naturally.  I'm sure that at some point, I'm going to add an acronym translator here.  In the mean time:
MQL means Marketing Qualified Lead – Marketing likes this lead and thinks it's a good one.
SAL means Sales Accepted Lead – A salesperson liked this lead to accept it.
SQL means Sales Qualified Lead – A salesperson has qualified a prospect in real life.
There was a part of the presentation I liked shown here: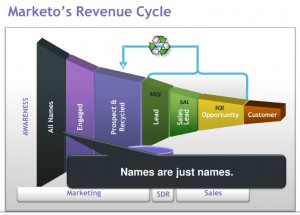 Businesses need to organize and think about the stages that prospects flow through and this graphic makes that a little easier to see.  Too many salespeople waste their time gathering names but a good marketing program can help them to spend more time talking to qualified prospects.
On the other hand, I was a bit put off by this slide.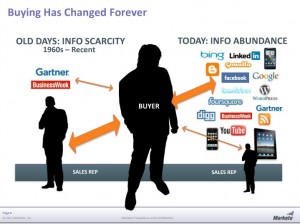 Maybe it is because I've always been a bit closer to sales than marketing. Maybe I just don't want to accept that salespeople may have a diminished role in the marketing and sales process. For sure I don't want to be like many journalists that I see today who are complaining about their diminished role (which I disagree about but I digress).
I do believe that sales still plays a very important role in the entire marketing process.  Social networks are hugely important but they still lack the personality and closing ability of a well trained salesperson. And I'm not talking about an old fashioned con-men or hucksters.  I'm talking about real professionally trained salespeople who know the right way to treat prospects and close sales.  This is becoming a lost art in the next generation and should be preserved.
Anyway, Mr. Miller's presentation has valuable visualizations of the marketing and sales process and should be studied carefully.
View the presentation online… | Source: Slideshare, Jon Miller, Marketo | Date posted: 1/12/2012