Free_Demo of Pardot's Marketing Automation Solution.
Pardot Marketing Automation
Pardot points out that their marketing automation is an on-demand solution that can show your sales team exactly where to spend its time in order to maximize ROI. Advanced micro-level web analytics allows Pardot to capture all relevant prospect activities, both on and off your site, and help you determine who is showing the most buying signals.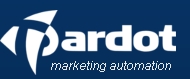 CRM integration, prospect tracking, automated nurturing, and other powerful features make Prospect Insight a must-have for B2B sales organizations.
Their features include:
Email Marketing – Email blasting, drip marketing, autoresponders, and an Outlook plug-in allow marketing and sales teams to effectively reach their prospects.
Landing Pages – Build landing pages and forms with intuitive drag-and-drop builders.
CRM Integration – Pardot boasts native integrations with salesforce.com, SugarCRM, Netsuite and Microsoft Dynamics CRM. Other CRM systems can be integrated via Pardot's web services API.
Campaign Reporting – Determine which marketing assets are converting the most visitors into prospects and allocate marketing spend accordingly.
Lead Scoring – Automatically score and grade your prospects and follow up with only those meeting your ideal customer profile.
Prospect Tracking – Identify visitors will "Website Caller ID", track all prospect activity with micro-web analytics, and measure campaign ROI.
Connectors – Bridge the gap between all your favorite tools.
Sales Alerts – Automatically notify your sales teams of significant prospect and visitor activity.
Search Features – Index your website and serve up relevant results to your prospects. Integrate Google AdWords and calculate your true paid search ROI.
Automation – Take the manual labor out of lead assignment, segmentation, and nurturing by automating your most common marketing and sales processes.
Pardot is a B2B marketing automation software provider that increases revenue and maximizes efficiency for companies with multi-touch sales cycles. Prospect Insight, Pardot's lead management software, features CRM integration, email marketing, lead nurturing, lead scoring, and ROI reporting to help marketing and sales teams work together to generate and qualify sales leads, shorten sales cycles, and demonstrate marketing accountability. Pardot's pricing plans start as low as $500 per month, and plans do not require contracts.